*What's New?
*We said goodbye to a lot of folks in the last couple of years... Dick (My Cousin), Ryan (Friend), Dick (Jeff's Dad), Jen (Friend), I lost my Brother, Tommy Carr, on Jan. 21st, 2006 and most recently, my older cousin, Bob!! :(
May you all Rest in PEACE and you will NEVER BE FORGOTTEN!! I Love You!!

Too bad you missed me in BROAD COMEDY at the Stuart Street Playhouse in Boston!! It was a RIOT!! VERY FUNNY material!! Maybe we shall do it again someday?? :)
MYSPACE!!
*Over the Holidays 2004/2005 I was once again Dorothy (Scrooge's Nephew's Wife) in Jack Neary's adaptation of A CHRISTMAS CAROL and I was once again, my good friend Cory's (Fred's) spouse, which made me feel all warm & fuzzy inside, as it did the past three years! Teehee! I also played the fiddle again onstage which is always a thrill... I was slightly less nervous this year than my first year!! Like riding a bike! ;)
"Could it be SATAN?"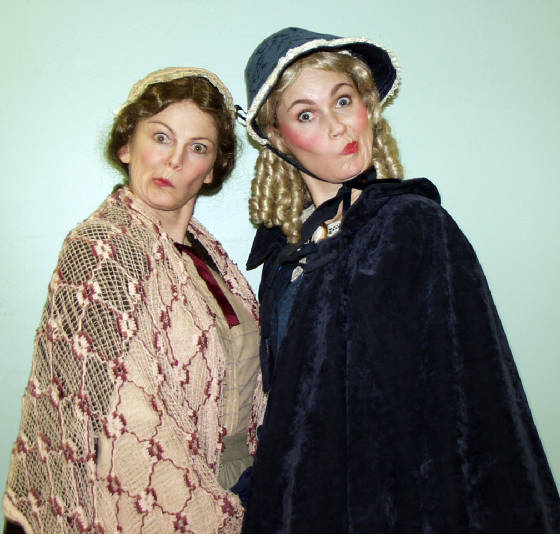 Dawn Tucker & Shana Carr (Mrs. Cratchit & Dorothy) 2004
Tres Mujeres Bonitas!!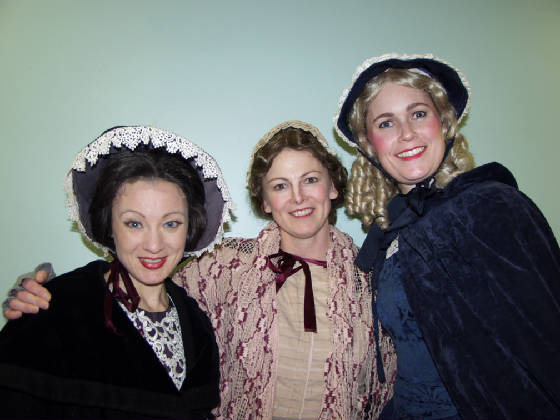 Stephanie Carlson (Belle), Dawn Tucker (Mrs. Cratchit) & Shana Carr (Dorothy) 2004
SMOKEY JOE'S CAFE
at
Foothills Theatre Company
, Spring 2004: From Left to Right... Jennifer Swiderski, Shana Carr, Aurelia Williams, Esther Triggs, Nicholas Ward, Rennard Eric Owens, Kwame Michael Remy, Allie Laurie, Will Ray.
*One of my most exciting roles to date was last Spring 2004 (of course at
Foothills Theatre Company
) as Patty in SMOKEY JOE'S CAFE! This show TOTALLY ROCKED!! The entire cast kicked-butt and I felt especially in my PRIME as I wailed-out Pearl's A Singer in my short black form-fitting sparkling dress with high heels and "Moulin Rouge" RED HAIR!! Yes... I went RED for this one! In one review by Paul Kolas of the Worcester T&G I was accused of looking like...
a young and very sexy Ann Margaret...
who...
lets her strong soprano fly on numbers like "Pearl's A Singer" and "I Keep Forgettin'"...
I guess I am a "Closet- Redhead" (as I recall Jen Swiderski putting it)!! It was a JAMMIN' show filled with the best songs of Leiber & Stoller and we had a BLAST!! I hope to do this one again & again in the future! Wherever it is playing... I will be at THOSE AUDITIONS!! Mark my WORDS!! -- By the way... I was thrilled (and blessed) to be the only local performer in this show among others from "another CITY" (teehee) who had done the show before... some of them had done SJC many times before! ;)
TITANIC: THE MUSICAL at FTC 2003
Charlotte Drake Cardoza (Shana Carr) -- Wearing a 30 lb. beaded dress used on Broadway!
*In Fall 2003 at FTC I was Charlotte Drake Cardoza in
TITANIC: The Musical
! It was a great experience working with the Director, Jennifer Waldman, who was in the BROADWAY Production and also on the BROADWAY TOUR of TITANIC!! ***Jen is now in the Broadway Cast of WICKED!! Cannot wait to see you, Jen! Break-a-Leg!!*** The story of TITANIC itself and the way it was portrayed in our production under Jen's direction was amazing and extremely emotional. Just to even imagine what it was really like for those thousands of people sent chills through my spine and it was all I could do to not lose control of my emotions during every performance! Everyone in the cast felt this way at one point or another... especially in the rehearsal process. Foothills Theatre Company rented the BROADWAY costumes for this production and one of the Charlotte Drake Cardoza costumes had such a HUGE price tag $$$, that it had its OWN VAULT on BROADWAY!! I was VERY careful with that Black beaded and sequined dress (the one I wore in the Smoking Room Scene)!! If you ask any members of the crew or "Orchextra" (Ha!) and live musicians on stage left... they might remember one particular show where I might have seemed to be more like Pepe Le Pew in DRAG than the lovely character I was portraying!! Haha! It was yet again be another exciting show to be in... this cast was FANTASTIC and excellent voices/actors, etc., all around!
Bob Zolli's Party in Providence, RI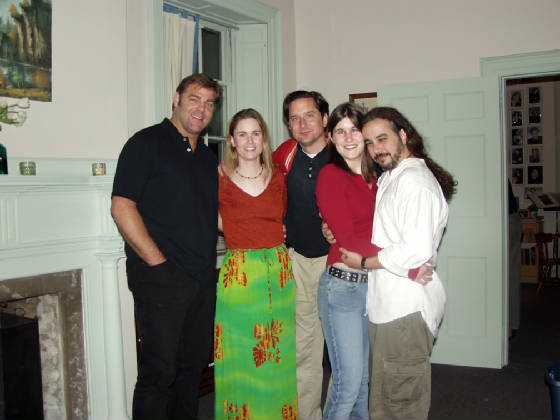 Chuck Wagner, Shana Carr, Duncan Putney, Margot Dubois & Danny Zolli
*In the Spring of 2003 I was in New Repertory Theatre's production of
SWEENEY TODD
in Newton Highlands, MA!! It was an excellent cast of musicians/actors, etc... an amazing combination of people and a recipe for an incredible experience. We had RAVE REVIEWS, including Joyce Kulhawik's review saying "... easily one of the most exhilarating theatre experiences I have ever had!" -- WOW!! -- ***It was during this production that I met Bob Zolli, his wife (Susan), his brother, Danny Zolli and their friend, Chuck Wanger!! That is why I posted these pix of us at the Zolli's residence in Providence, RI!! I had a BALL at their party... a very fun group of people! ;)
*Right before SWEENEY TODD, I played Electra in GYPSY at Foothills Theatre Company in Worcester, MA... full story is below! We had our Press Opening on Sunday, March 2nd, 2003 and we got a great review on Monday in the Worcester T&G, by Paul Kolas. We had a GREAT RUN & it was such a fun show!!
*Well, to make a long story short... HA... I auditioned for GYPSY on Monday, Jan. 20th at Foothills Theatre Company... I sang YOU GOTTA HAVE A GIMMICK from the show for my audition... I decided to go all out, so I rented a TRUMPET on the Wednesday before my audition and I taught myself the tune on the trumpet in GIMMICK that Miss Mazeppa plays/sings!! TOO FUNNY! Check it out... I made a recording with the music from the CD in the background just a half-hour after I got home from renting the trumpet... click here:
Here is a recording I made on the evening of Jan. 17, 2003... just two days after I rented the trumpet! I am excited that I was able to learn it in time to play it for my audition!
*I performed my first year/season in Jack Neary's adaption of A CHRISTMAS CAROL at Foothills Theatre Company in December 2002!! I was very thankful to be working over the Holidays! In this play with music, I portrayed Dorothy (Fred's wife-- Fred is Scrooge's Nephew), plus I was a Caroler and I originated a new character (Fiddler) in this production!! It was a lot of work and as always at Foothills... it was very enjoyable show, cast & crew!!
*RAGTIME: The Musical at Foothills Theatre Company in Worcester, MA (an hour West of Boston) earlier in the Fall 2002 was an AWESOME production that I was proud to be a part of and for those of you who missed it... SHAME on YOU!! Just kidding! ;)
***Here's yet ANOTHER FUN story if you are so inclined to read on: In March of 2002, I had FABULOUS auditions in NYC for the GREAT Martin Charnin (ANNIE & TWO BY TWO)!! Tom Bosley (an incredibly nice family friend of mine) introduced me to Mr. Charnin... and Martin was very nice to go out of his way inviting me to audition for his projects, PLUS referring me for another audition the same weekend of March 15-17th, 2002 (Luck O' the Irish--teehee!!) --
***What's even more interesting*** is that I found before the Holidays 2002/2003 from my friend, Patricia Carr-Bosley, that Tom Bosley was to portray Herr Schultz in CABARET on Broadway (the Roundabout Theatre Company Production) for a few months!! He debuted on December 13th, 2002 and he was be Herr Schultz for several months!!
So, I had the thrilling experience of going to see Tom (who is the perfect Herr Schultz!) in this production of CABARET when I was in NYC with my friend, Julie Perkins!! We went to see CABARET on Jan. 26th, 2003 (Molly Ringwald's last night as Sally Bowles-- she was WONDERFUL!! Poor girl had been sick all week, but she ROCKED!) and the whole show was FABULOUS!! Tom arranged for us to have seats just a couple of rows of tables from the stage, Patti & Jason (my Nephew) were also there and my friends, Bob Dolan & Dawn Tucker (below), who also happened to be in town!! -- I was pulled up onto the stage to dance with Neil Patrick Harris in the second act (he is an EXCELLENT Emcee & has a NICE VOICE, by the way!) -- What a thrill... I was very comfortable up there on that stage!
Then, after the show, Tom was very sweet to invite me and my friends backstage to meet everyone and say HI! It was backstage where I talked to Neil Patrick Harris and I found out that he had NO IDEA that I knew Tom & Patti Bosley! It was honestly by coincidence that NPH chose me to go onto that stage with him! TOO FUNNY! He was actually supposed to grab Patti and pull her up there, but she was in the middle of the audience and hard to get to... so, the Emcee chose ME in the "Orange/Red" chinese jacket! HA!
TOO EXCITING!! It was my very first time standing on a Broadway Stage! ;) WOW!! :) -- Tom said to me backstage, "Well, Shana, we have finally shared the Broadway Stage together!"
CABARET: Roundabout Theatre Company
CABARET Backstage
Bob, Dawn, Neil Patrick Harris, Shana Backstage at CABARET, Jan. 26th, 2003
*A fun addition to my website:

Am I HOT or NOT? Check out Hot or Not.com!! Go ahead... make my DAY... RATE ME!! Hahaha! :)
Below is a publicity photo for RAGTIME: THE MUSICAL at Foothills Theatre Company: This is only a small part of the cast! :)
NEW ROCHELLE PEOPLE:
Shana Carr (Ensemble), Heather Hannon (Ensemble), Ryan F. Curtis [Oct. 19, 1975-Feb. 7, 2005} (Ensemble), Matt Jones (Ensemble--kneeling), Leigh Barrett (MOTHER), Wil Darcangelo (Mother's YOUNGER BROTHER), Dick Decareau (FATHER), Tyler Rand (LITTLE BOY), Chris McNeany (Ensemble), Jack F. Agnew (GRANDFATHER, Ensemble), Kristen Palson (Ensemble).
Click on this pic below to get the Foothills Theatre Company Website!
Shown below:
Shana as Lady Hertford and Polly Furth as Tom Canty in THE PRINCE AND THE PAUPER at the Wheelock Family Theatre.
Hey, Click on this pic below to go to my CARRSTAR PHOTO GALLERY... with PIX by me and Jeff...
We Will Miss You, Ryan Francis Curtis (October 19, 1975 - February 7, 2005)
Ryan F. Curtis & Shana Carr
Backstage: "Ragtime: The Musical" at Foothills Theatre Company, 2002
If you would like to spread the word about this site, please click on this: